TGIF, H54F-ers!!! Della at Della Devoted, Katie at Cup of Tea, and myself want to welcome you to the High Five for Friday link-up and the weekend. We made it!
This week's featured blogger is Jessica from Life. Love. Reality., a lifestyle blog. Jessica is a working mom with two daughters. I love her recent post about being thankful. And her kids behind the blog post is so cute!
1. Kane and I went home to eastern Kentucky over the weekend. I had to work back home on Monday, so we went in on Saturday in time for my brother's alumni basketball game. Then we went out to eat at one of my favorite restaurants back home. I'm from a super small town, and it's always nice to go back and see everyone. I also got to spend time with Della on Saturday, when we shot some blog pics.
2. I had dinner with my Rynetta from J Crew Is My Fav Store on Wednesday night at Saul Good. You should check her out–she has great style! We always have the best conversations!
3. I finally bought a Christmas tree! We've had our old one since Chauncey and I got married, and I've said for each of the last two years that we needed a new tree. I found one I loved at the At Home store. It has gold glitter on the branches and looks enchanting!!!
4. Last night, I went out with friends to see Fantastic Beasts and Where to Find Them [eeek!!!]! I LOVED the movie! I had purposefully not read up on it or watched anything on it. Who else is going to watch it this weekend???
5. There are a couple of awesome blog projects that have came my way this week. I am SO excited to share these with you next week!!! They're something different than I've ever done, and I'm so thankful that God has blessed me in this way. Hop over to Snapchat for a sneak peek (brightonabudget)!
ICYMI, here's this week's posts:
Thanks for joining us for H54F! Be sure to link-up below and/or let us know how your week's been in the comments!

Follow along on GFC (click link or click button sidebar), Bloglovin' (click link or click button on sidebar), or email (click here). Also, tweet us or use #H54F and we'll retweet your post!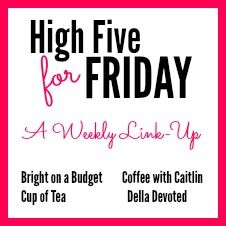 <div class="bright-on-a-budget-button" style="width: 200px; margin: 0 auto;">
<a href="https://www.brightonabudget.com" rel="nofollow">
<img src="http://i40.photobucket.com/albums/e232/coffeewithcaitlin/h54f2_zpsc7e1f4e7.jpg" alt="Bright on a Budget" width="200″ height="200″ />