TGIF, H54F-ers!!! Caitlin at Coffee with Caitlin, Della at Della Devoted, Katie at Cup of Tea, and myself want to welcome you to the link-up and the weekend. We made it!!!

This week's featured bloggers are Jess and Katie from Sweet Little Ones. Sweet Little Ones is an inspiring lifestyle blog that revolves around their lives as sisters, moms, wives, and friends. They also co-host Tuesday Talk, a weekly linkup that you should be hitting up if you aren't already:) I've followed along their stories of pregnancy, infertility, and adoption, and I love their recent post about the most important mission.

Now let's recap this week's highlights:

1. I spent the weekend back home in eastern Kentucky. There's just something so relaxing about being on some back country roads. So Saturday night I went out with my family for a delayed birthday celebration. We ate at Pizza Stop and it was DELICIOUS!

2. Della and I took the boys to see the Peanuts movie on Sunday. You may not know this about me, but I'm a big Peanuts fan. The movie was everything I hoped for! Kane flipped the lights on in the theater at one point (oops) and Raylan may have been a little fussy at times, but it went fairly well otherwise.haha


3. Della and I also shot some blog pics up my one of the offices that I work out of some times. My company's office is situated on top of a hill with some spectacular views. Many days, you can even see elk roaming along the roads. I'm not sad to say that thankfully none wandered up to us while we were taking pics. I shot 2 outfits that are stylish, cozy, and comfortable to get you through Thanksgiving dinners! You can see the sweater + leggings look here, and the sweater dress look here.


4a. I finally watched the Longest Ride, and I highly recommend it! Even Chauncey liked the ending. This may be the only Nicholas Sparks movie I've actually liked since the Notebook. Definitely worth the rental fee I charged to Chauncey's iTunes account to watch it.haha

4b. Kentucky beat Duke (sorry, Katie)! My tee is from Kentucky Brewed Tees. You can head over and shop their website now (and since I'm a brand rep, you can use BRIGHT for 10% off) or stop by Market 301 in Lexington this weekend. I plan on being there on Saturday, so if you see me, come say hi!



5. Our good friends came over to hangout on Wednesday night with their son. There's about 13 months age difference between he and Kane, but they played really well together. We also ordered some pizza and just chatted. That's my kind of night.


ICYMI: this week I guest posted about my philosophy on budgeting. You can get the details here.

Thanks for joining us for H54F! Be sure to link-up below and/or let us know how your week's been in the comments!
Follow along on GFC (click link or click button sidebar), Bloglovin' (click link or click button on sidebar), or email (click here). Also, tweet us or use #H54F and we'll retweet your post!


BLOGGERS: Ready to join in the link-up? Just write a blog post about 5 things that made this week! Add your blog post link down below. We ask that you follow each co-host on social media and link back to the link-up. You can even grab the H54F button to add to your post!
Don't forget to visit your fellow linkers and say hi! We recommend visiting the featured blogger + 3 other bloggers–try ones that you haven't visited before:) Drop 'em a comment to let them know that you're visiting from H54F so that they can visit you back.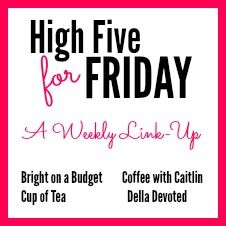 <div class="bright-on-a-budget-button" style="width: 200px; margin: 0 auto;">
<a href="https://www.brightonabudget.com" rel="nofollow">
<img src="http://i40.photobucket.com/albums/e232/coffeewithcaitlin/h54f2_zpsc7e1f4e7.jpg" alt="Bright on a Budget" width="200″ height="200″ />